For over 40 years, Orac Décor have developed and manufactured decorative profiles in new materials offering innovative and unique concepts for people who love decoration. The enthusiasm for all things beautiful is in the genes of this European family run business.

ORAC Decor products are made from high quality polymers combining the strong, workable characteristics of synthetic materials with the look of wood or plaster, but https://www.pelican.co.za/product-category/ceilings/flush-plastered-ceilings/cornice/oracdecor/with many added advantages as indicated in the table below.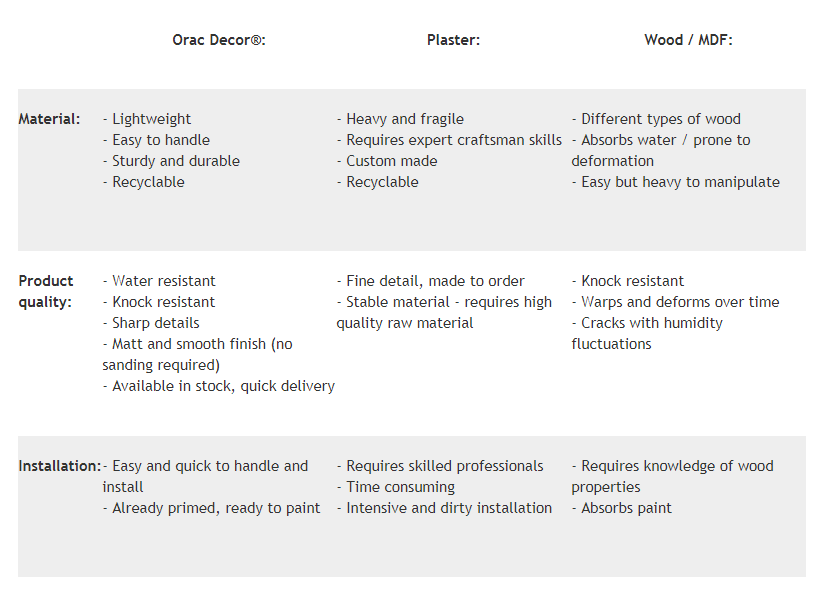 Orac Décor have pioneered this space and their unique formulation of materials are known as Durofoam, Duropolymer and Purotouch, all of which are registered trademarks to Orac Décor.
Most of the products from the Luxxus collection are made of a moulded quality high density polyurethane (Orac Décor's Purotouch).
The ornaments from the Axxent collection are made of Duropolymer and the Basixx collection uses Durofoam.
All of these can be painted immediately and do not require any primers.
Durofoam is an extruded lightweight polymer based on a medium-density Polysterene blend. It is recommended only for interior use, is lighter in weight and a budget friendly quality option.
Duropolymer is an extruded and impact-resistant polymer based on a high-density polystyrene.
Duropolymer allows for sharp lines and sharp reproduction of details, products can be used for exterior applications and damp environments with an added coating, and is knock resistant so ideal for Skirting.
Purotouch is a moulded high-density polyurethane and allows for deep reliefs and ornamented profiles with sharp edges for optimal design features. Suitable for exterior use with an added coating and allows for flexible profiles.
For more detail – data sheets are available to download on https://www.oracdecor.com/en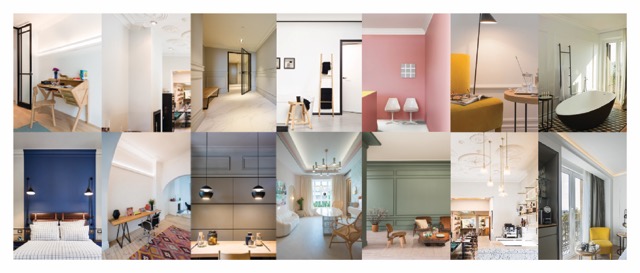 Having a variety of materials has allowed for versatility offering exceptionally high quality solutions such as flexible and knock resistance combined with a fine finish, as well as some of the Basixx which have budget appeal while still offering the fine primed finish and sharp edges.
Using Orac Décor products makes renovating and finishing interiors so much faster and a lot easier, offering real solutions with endless creative options for the decoration of interior ceilings, walls and floors.
When selecting your Orac Décor Profiles, consider the site requirements and assess which quality you require to meet your project requirements.
There really is a profile for every requirement and desired aesthetic. If there is a need for a solution it is likely that there will be an Orac Décor profile to satisfy that need.