The consumption of energy in buildings is one of the fastest growing and insulation is the most cost effective way of reducing this.
As South Africans and especially living in Durban, Insulation hasn't until now been an important component of new buildings. In colder climates, insulation plays a far more significant role and entire homes are insulated against the cold. Here in South Africa regulation requires insulation to be a part of the ceiling construction to assist in achieving the required R-Value according to the Climatic Zone of the area.
If you understand climate change and want to do your part, then insulating ceilings is an important place to start.
Insulation once installed starts working immediately to reduce energy demand and greenhouse gas emissions, so if your building does not have insulation it is a good idea to install as soon as possible.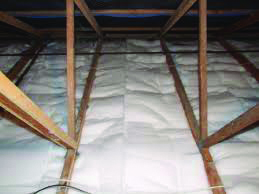 Reports show that Insulation reduces the average home heating and cooling costs by around 30%, so if your electricity is costing R 2, 000 per month, you could save R600 each month.
Over a year you can save R 7, 200 and over ten years a substantial R 72, 000 and that is excluding increases in energy costs.
Each year when energy costs increase, insulation reduces the impact on rising costs and the savings are increased.
Installing Insulation is not expensive and installations generally pay for themselves within three to five years due to the savings made on reduced electricity costs. As electricity costs rise, the recovery time is reduced until the savings become a direct benefit on your disposable income each month.
Insulation is most often a once off expense as the right Insulation will generally last the life of the building and no maintenance is required over time and it generally costs less than 1% of the construction cost for a typical home.
Even more important however is the comfort factor that a well-insulated building provides. Insulation provides both thermal and acoustic benefits controlling temperatures and noise levels and improving the health environment of the home or office, and this you cannot put a price on.
In our view insulation is undoubtedly a necessity for new and existing buildings and the ceiling is the place to start.
Take a look at our wide variety of Insulation Products and Materials available to you!