JUMBO Skimming Plaster has some noticeable benefits which include its smooth surface and brilliant white finish, but there are many other benefits that are not immediately obvious which offer hidden benefits and savings.
Easy to Mix:
JUMBO Skimming Plaster is a fine powder and is not highly permeable. These factors mean that the product mixes easily and takes less effort to mix due to its fine, light texture and lower water absorption. Mixing time is around 5 minutes but easier to mix. No additional products need to be added to JUMBO Skimming Plaster to enhance the product performance.
Working time can be altered with the amount of product to water ratio:
Depending on the applicators preference in working time, JUMBO Skimming Plaster can be mixed to suit the plasterers preferred speed.
Decrease speed of application = Add more water / this will increase drying time
Increase speed of application = Use less water / this will reduce drying time
25kg Bag Size
So much easier to lift and handle a 25kg bag. Depending on the area to be skimmed you have the flexibility to mix 25kgs or double up and mix 50kgs.
Fine texture reduces labour intensity of plastering:
This ease in application due to fine texture of the JUMBO Skimming Plaster can (dependant on applicators) increase the M² coverage of the product. Easier to work with therefore quicker to apply resulting in more area being covered.
Longer working time in the bucket allows more time to use the product and less waste:
More product can be mixed to start with and the initial working time is 40-60 minutes before it becomes hard and unusable in the bucket. This translates to less mixing time and more time to get product on the ceiling or wall. It also means that less product is wasted due to hardening in the bucket.
Excellent adhesion means more product on the ceiling or wall and less on the floor:
JUMBO Skimming plaster has increased tackiness that allows for excellent adhesion so the mixed skimming plaster sticks to the surface to be plastered easily and less of it falls to the floor. This makes application easier and reduces product wastage.
Application can be 1mm up to 13mm thick depending on requirements:
If application doesn't need thick coverage, then go as low as 1mm. The fineness and ease of application as well as adherence of the product allows for thin application which means savings in product and time.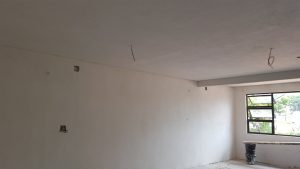 What does this mean for a skimmer who is paid per m2?
If as a skimmer you are paid per m2 of skimmed area per day then JUMBO skimming plaster is going to allow you to increase your earning capacity by increasing the m2 coverage you can achieve in a day.
JUMBO skimming plaster achieves this by:-
reducing the number of mixes required as the working time in the bucket is 40 – 60 minutes and more product adheres to the surface
easier to mix, less effort required
easier to apply, smoother and lighter in texture therefore less labour intensive
able to alter application speed by adjusting the water ratio so you can increase application speed which in turn reduces the drying time so you can finish quicker
Adherence to the surface improves the application process and reduces mess on site
Application thickness variable making the product versatile and when the job allows reducing thickness results in savings on product and improved speed
Chip and crack resistant and no need to sand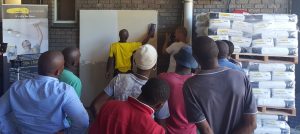 What does this mean for the owner/contractor/developer?
Money saved.
JUMBO Skimming plaster achieves this by:-
Increasing m2 coverage due to ease of application, product adhesion and variable thickness application
Ability to adjust working time and speed of application by adjusting the water ratio
More product on the ceiling or wall due to adhesion properties
Less wastage and less mixing time due to ease of mixing, application and adherence to the surface
Smoothness and finish easier to achieve due to workability, flexibility and smooth fine texture
Less paint due to perfectly white finish and no sanding required
Anyone in the building industry, be it a ceiling and partitioning specialist, plumber, electrician, shop fitter, painter or skimmer that is looking for a quality finish and value for money, will find it when they tap into the hidden value of JUMBO Skimming Plaster.
Click here for more information on the Jumbo Skimming Plaster utilised.