We arrived at the clinic at 11am. Initially on arrival, we thought that the clinic wasn't so full, but to our surprise at intervals throughout the passage there were multiple areas where groups were seated and waiting in their position to be seen by one of the clinic staff.
I would estimate that there were approximately 120 people in attendance at the clinic.
The staff were friendly and appreciated us visiting.
At first everyone was a little unsure what we were doing there, but slowly warmed to the attention and the parcels once they realised it was just a gift for each of them.
The environment was quiet respectful of the ill, and most people seemed resigned for their long wait.
Unlike the children we visited last year who expressed their excitement and appreciation, the recipients today were far more subdued, though I am sure that the gesture was appreciated and we have made a difference for a moment in some of their lives.
Visiting the clinic made me appreciate the number of people needing medical assistance or treatment, and the important work that clinic staff do.
If only we could reduce the time they spend waiting for their treatment.
"For me, the beautiful part was the look on the little girls face when she opened the parcel and saw the goodies….it was priceless." Aruna Patel
"The message I took home with me yesterday is, that doesn't matter how long the queue or how much time is wasted, in the end it is worth the wait, perseverance is all that one needs to reach the finishing line." Natasha de Koker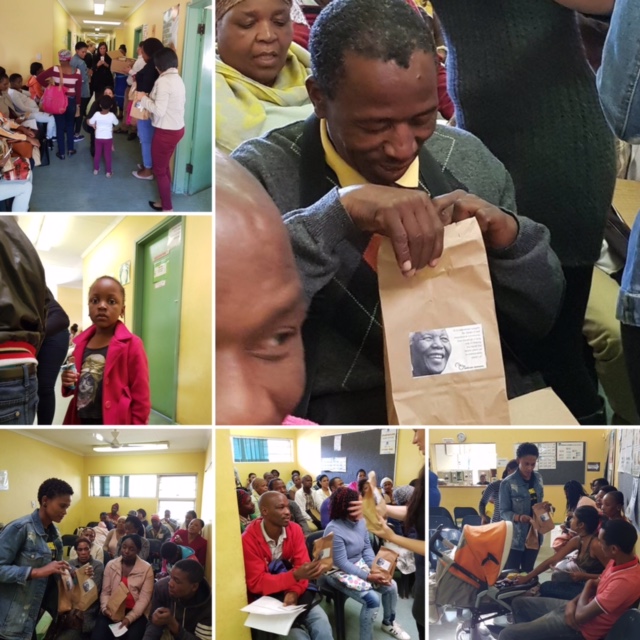 The Redhill Clinic is a government municipal primary health care facility providing HIV and TB related treatment, care and support services. They have a community oriented primary health care programme that monitors and proactively works towards the improved health and wellbeing of families in the Redhill area.
Services include:- HIV Counselling and testing, CD4 cell count assessments, home based care services and support for family members, assessments and referrals for mental health issues, male circumcisions, feeding for malnourished patients, services for pregnant women and counselling for survivors of abuse and rape prior to referring survivors.
Their hours are Monday – Friday 7.30am to 4pm and all services are free of charge.