Acoustic Solutions
Our range of Knauf AMF Ceiling Systems and JUMBO Drywall partition systems are designed to meet the acoustic conditions required while being robust and easy and fast to install, using the minimum number of components. Our acoustic solutions have the design and performance flexibility to accommodate these differing requirements without compromise on installation or layout efficiency.
CEILINGS
Knauf AMF Ceiling Solutions
Suspended ceiling systems play a key role in the control of the acoustical environment thanks to their acoustic surface core composition. The occupant of a space, be it an office, a classroom, a shop, or any similar environment needs:
Intelligibility – to hear and to be understood
Privacy – to not be overheard
Concentration – to not be disturbed
The optimum acoustic climate will be obtained with the right combination of sound absorption and sound insulation, and can be supplemented by the use of active acoustics.
Knauf AMF acoustic ceiling tiles facilitate the acoustic functionality of a suspended ceiling by providing a range of tiles with varying NRC values (noise reduction co-efficient) which allow for both absorption and reflection of noise. The higher the NRC the greater the absorption of noise which reduces the overall noise levels and lowers reverberation, creating a more comfortable and productive working environment.
It is however important to understand the requirements of the acoustical space, in order to correctly select the best acoustic tile option. In a lively bar or restaurant more reflectance of noise may be the objective and an NRC of 0.50 may be more suitable.
Features and Benefits include:
Humidity Resistance up to 95% RH
Light reflectance up to 90%
CAC up to 35
Enviromentally friendly
Moisture and fire resistant
Fire Protection Parameters and Fire Resistance Classification
The EN 13501-1 standard is used to assess and classify building materials according to their fire behaviour. It sets the requirements for the materials on the surface of building components, e.g. ceiling cladding, and their behaviour when in direct contact with radiant heat or flames.
The classification into combustible and non-combustible building materials doesn't describe the intrinsic behaviour of the material. The behaviour under fire load depends on the surface type and form, the presence of bonding agents, the processing technique used, etc. The certifications are therefore only valid for the building material or composite building material actually tested. Other compositions can exhibit a less favourable fire behaviour.
The A2-s1,d0 class corresponds to the national building-regulation term: "non-combustible". AMF THERMATEX panels are classified as A2-s1,d0 in accordance with EN 13501-1 and are therefore "non-combustible".
The material class is mostly printed on the rear of the panel as well as on the packaging labels.
Test certificates are available on request.
PARTITIONING
JUMBO AcousticWALL
63/120/S56
There are a number of reasons that high levels of environmental noise are becoming critical. These include increasing population and population density, increasing volumes of road, rail and air traffic and for extended periods, and increased intrusion into commercial and industrially zoned areas.
The effects of excessive noise levels in homes and offices have been widely researched. They include annoyance, anger and frustration, and they have been linked to health problems such as loss of sleep and sleep quality, heart disease, hypertension and psychiatric disorders. For these reasons, designers should carefully consider the products and systems used in houses and commercial office space with regards to their acoustic performance.
Our JUMBO AcousticWALL 63/120/S56 was tested and received an excellent sound rating of 56 RwDB, one of the highest sound ratings in it's class.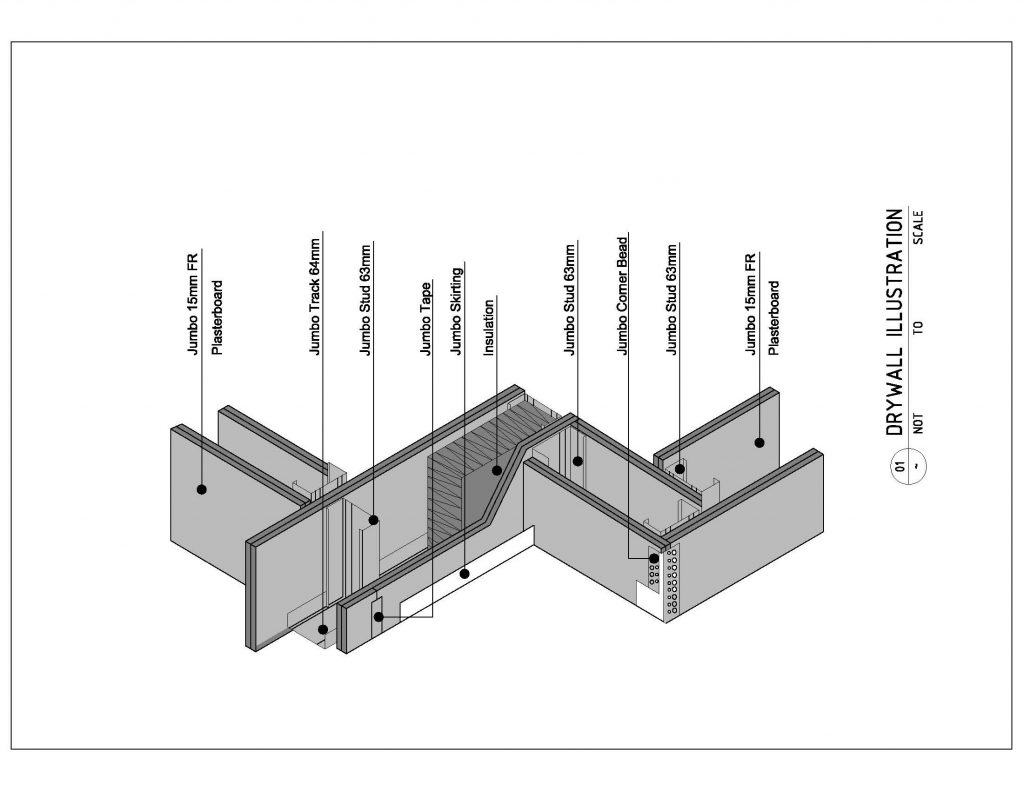 Features and Benefits include:-
56 RwDB sound rating
120 min fire rating
Excellent sound absorption (controlling reflection)
Control of reverberation time
A smooth finished surface provided by recessed edges
Interested in this solution?
Enquire via the form below and we'll get back to you!
Alternatively send us an email on info@pelican.co.za